Call Accounting Systems & Software
The Phone Assistant productivity application
suite blends the power of the Panasonic KXTDA Hybrid IP PBX together, with personal computers to provide a truly remarkable CTI software allowing intuitive point and click operation for personal, team, and enhanced business productivity.
Incoming Call Popup

Informs you of incoming calls via a small pop up window without disturbing you

Visually Dial Contacts

To call someone, click the contacts tab to visually check to see if they are available and simply click to dial.

One Click Access to Phone Directory

The software is fully integrated with Microsoft Outlook's contacts- allowing users to easily dial contacts in the Outlook Address book, as well as those created within PA Pro's contact list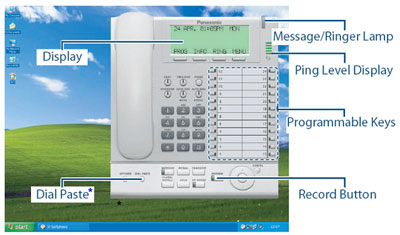 The Panasonic KX-NCS8100 IP softphone  allows  roadwarriors, sales and support staff, or any other power user to use their computer as a powerful IP softphone for access to anytime, anywhere enterprise IP telephony.
24-Character Display
The six line display switches to show either

the caller's name or telephone better, keeping

you better informed when answering customer

calls.