Paging Systems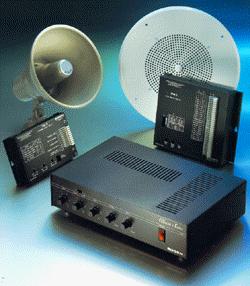 We carry a complete line of Bogen, NCI, Valcom & Viking paging systems.  We can custom design a system for your specific paging needs.  Whether it's one-way, two-way talk-back paging, indoors or outside, small buildings to large warehouses we can help.
Call us for a Free on-site consultation.  845-279-7622 or 203-797-9698.
Telephone Access Module: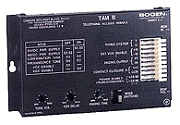 Loop start, ground start, and station port (90V ring up) compatibility
600-ohm output
Built-in confirmation tone indicating access to paging system (defeatable)
Built-in pre-announce tone produced over paging system before announcement (defeatable)
Adjustable tone volume
Works with one-way and two-way (talkback) zones
Background music input with volume control
Suppresses background music during paging
Station access disconnect is dynamically controlled using a combination of disconnect timer, silence interval timer, and Calling Party Control (CPC_ signal detection
Disconnect timer is adjustable from 6 to 35 seconds (defeatable)
Silence interval timer is adjustable from 2 to 6 seconds (defeatable)
Calling Party Control (CPC) signal from switch immediately disconnects station port
No power supply needed for station port interfacing
1 normally open contact pair available for operating external equipment
Punch block connections (type 66)
Wall mount design
FCC Part 68 approved

Bogen 15, 35, 60 & 100 Watt Amplifiers.
15, 35, 60 & 100 watt output
Compact wall-mount design
Automatic Level Control (ALC) for balanced output with varying voice input levels
Built-in night ringer
Input terminals for telephone line and background music source
Output terminals offer choice of 25 volts, 70 volts, or 8 ohms for connection of various types of loudspeakers
Individual controls for tone, page volume, background music volume, and night ringer volume
Paging Horns: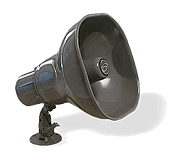 Wide sound dispersion angle: 110 degrees · Can be mounted on pole or flat surface
High-intelligibility re-entrant horn ideal for indoor and outdoor use
Adjustable all-purpose mounting bracket
Impedance selector for matching a 25V or 70V line
Power rating 15 watt continuous, RMS, 20 watts equalized
Dimensions: 9″ diameter x 9 1/4″D.
Ceiling Speakers:

We carry a full range of ceiling speakers to fit every need.