Surge Protection
Every manufacturer we know does not cover lightning, flood or destructive damage under their warranty.  Don't risk your investment – make sure you have lightning/surge protection on both your electrical and telephone outlets.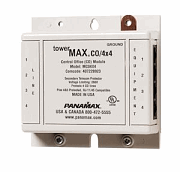 TowerMax 8 KSU Surge Protector Base Unit
SurgeGate™ Circuitry is a "power monitoring" system.  Protects your KSU and AC equipment against prolonged over-voltages, as well as surges. In the event of a prolonged over-voltage, SurgeGate™ Circuitry will disconnect power to equipment, then automatically reconnect it once power has returned to a safe level.
Expandable Protection.  Customize your single line protection with an unlimited number of TowerMax modules
8 AC Power Outlets.  All outlets are spaced for transformers.  Four always on and four switched outlets provide maximum flexibility
Central Office Line Surge Protector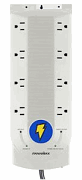 Protect your system from both ends.  Use the  CO Line Protector to adequately protect your investment from power surges that may arise over your telephone lines.
Protects eight central office lines
Features 8 RJ-11/45 jacks through 4 ports (4 lines, 4 equipment – pins 4,5 each port)
Auto-resetting sneak current protection
For use with TowerMax 8 KSU Base Unit
Clamping level 240 volts
UL 497A, CSA Certified