The Power of IntelliControl ICS In Your Hands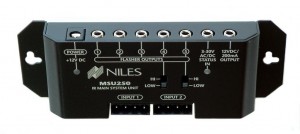 From poolside to bedside, IntelliControl ICS wireless remotes reward you with one-touch control of your home entertainment. Choose between the original iRemote® with its intuitive

layout and informative LCD display, and the new iRemote®TS, the first wireless touchscreen to combine IntelliControl ICS and home theater control. Experience IntelliControl ICS.
GXR2
Modular Multizone Receiver
Simple Is Beautiful
The heart of IntelliControl ICS is the GXR2 Modular MultiZone Receiver. With its interchangeable modules

for popular entertainment sources, you'll enjoy XM® and Sirius® satellite radio, Apple® iPod®, AM/FM and HD Radio™, the DMS4 Digital Music Server, and legacy audio sources such as
cable/satellite television, CD and DVD. Available in 110V and 220V versions. Experience IntelliControl ICS.

The Power Of One Touch
Our keypad systems provide one-touch control of your whole-house system. Walk up to any IntelliControl ICS keypad or color touchscreen and instantly select your favorite entertainment. Available in a wide range of colors and custom finishes to blend with any décor or room style. When you Experience IntelliControl ICS, you're just "One Touch to Entertainment."
IntelliControl ICS Control Panels
Convenience Outlets and Connectors